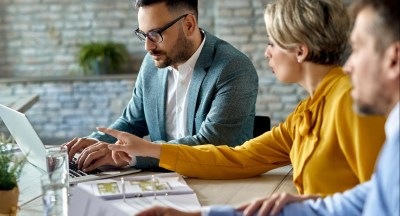 How 365 Mechanix Supercharged Stoneink's Collection Process
Stoneink is a Sydney-based debt collections agency that isn't afraid to take on the challenge that other agencies try to avoid. They pursue debt for their clients that has been deemed "uneconomical" by other agencies. Their determination and personalised approach have been the driving forces behind their success.
Recognising the need to streamline their operations without compromising their approach, Stoneink sought a technology solution that could seamlessly blend into their organisation whilst providing a significant boost to.
A Personal Touch in the Age of Automation
Ash Dalalchi, the CEO of Stoneink, understood the nuances of debt collection conversations. He emphasised the importance of maintaining relationships with debtors even in the face of automation: "Conversations around debt collection can be difficult, so a personalised approach was key. We wanted to show the market our way of working which really drove our success."
365 Mechanix introduced Stoneink to 365 Collect, a revolutionary solution that would automate and optimise their debt collection processes while preserving the personalised interactions that set Stoneink apart.
Empowering Efficiency Through Automation
The impact of 365 Collect on Stoneink's operations was nothing short of transformative. Key solutions implemented included:
Automated Communications: The heart of the transformation, 365 Collect automates crucial aspects of the debt collection process. From tracking payment due dates to sending payment reminders and formal demand letters, the system handles these tasks, freeing up valuable time for Stoneink's team to focus on more complex collections.
Complete Customisation: 365 Collect offers a customisable experience from dashboard design to customer communications. Each interaction with a customer is tailored to fit the specific stage of Stoneink's collections journey, maintaining the personalised touch that's central to their success.
Centralised Records: With all records, communications, and collection-related information stored in one place, team members gain a comprehensive overview of each debtor's status. This transparency empowers team members to address issues and find solutions independently, reducing the need for involvement from senior team members.
Customisable Access: Even in an automated system, human intervention is sometimes necessary. In cases where debtors don't respond to automated steps, Stoneink's consultants step in. 365 Collect allows consultants to have customised access permissions, ensuring that only authorised personnel handle critical interactions.
A Partnership for the Future
The successful implementation of 365 Collect was made possible through the ongoing partnership between Stoneink and 365 Mechanix. From the initial stages, 365 Mechanix's consultants worked alongside the Stoneink team to ensure a seamless transition. This collaboration continues, as 365 Mechanix provides access to senior technology consultants who offer guidance and innovation during regular check-ins.
Embracing Efficiency Without Sacrificing Values
365 Collect has become an integral part of Stoneink's operations, propelling them to new heights of growth and efficiency. "365 Collect is now an essential part of our business. Without this service, we wouldn't have been able to grow as fast as we would have liked. They are a talented team that can be trusted to deliver every time," affirms Ash Dalalchi, Stoneink's CEO.
In a world where automation often threatens to overshadow the personal touch, Stoneink's partnership with 365 Mechanix exemplifies the harmonious integration of technology and human values. Through this collaboration, Stoneink has achieved a delicate balance: embracing automation to optimise efficiency while ensuring that its unique, personal approach remains at the heart of its operations.